Eye Exam Basics: What to Expect and When to See an Eye Doctor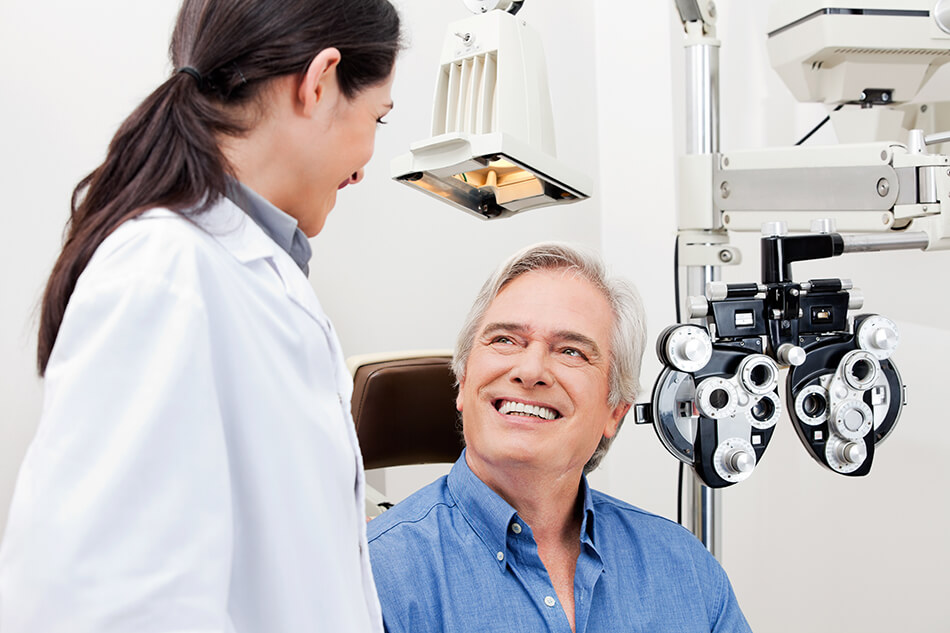 Schedule Your Eye Exams Regularly
Do you wear glasses or contacts? If so, you've probably been told to have regular eye exams. Even those with good vision should see their eye doctor, just to be sure. But how often should regular eye appointments happen? What signs suggest that you may need an appointment, even if you aren't scheduled to have one again for months? And, once at the appointment, what tests will the doctor perform and why?
Here we'll explain when you should plan to make an eye appointment, and what will happen when you arrive.
Eye care professionals often suggest that you have regularly scheduled eye exams. The frequency of visits to your eye doctor depends on a few factors, mainly your age and known eye conditions. A breakdown of how frequent you should visit your optometrist can be found here, and generally is as follows:
A baby's first eye exam should occur when they are six months old.
A child's second eye exam should occur at three years old.
The third eye exam should happen before they start school.
Those with normal vision and no risks should have eye exams every other year from the age of six to 60.
For those over 60, yearly appointments are suggested.
For those at-risk for vision problems, your eye doctor will determine the right schedule for visits.
Know Your Risk Factors
Some people are more at risk than others for vision problems and eye disease. The risk factors that make vision issues most likely include:
Diabetes
Hypertension (high blood pressure)
Family history of eye issues such as glaucoma or macular degeneration
Taking medications that cause dry eye or other side-effects related to the eyes
Wearing contacts improperly
For people with known risk-factors, your eye doctor may suggest coming in more frequently.
Address Your Vision Between Scheduled Visits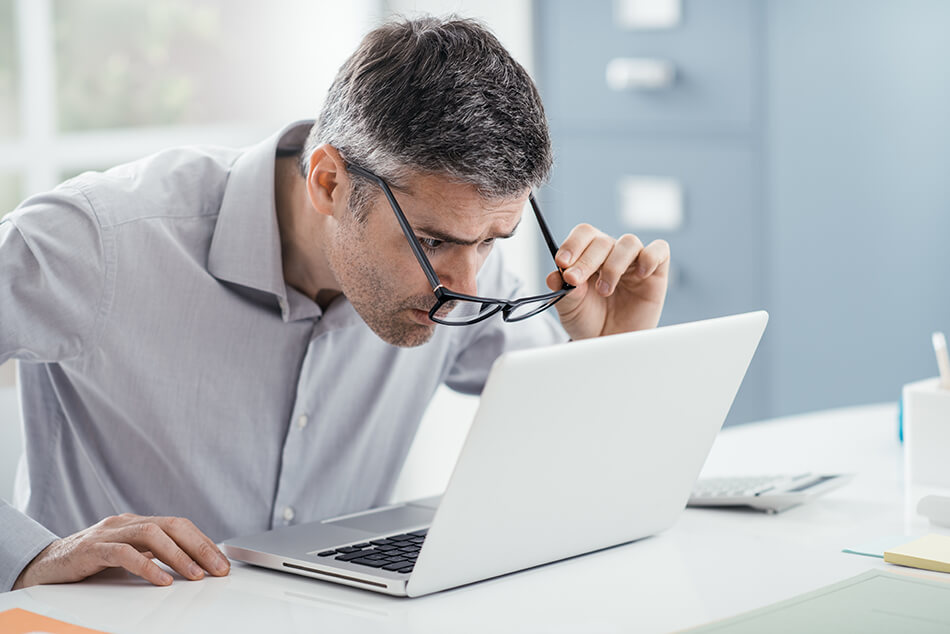 Any time you experience problems with your eyesight you should consider making an appointment with your eye doctor. Below are some things that would warrant an appointment:
Squinting: Do you have to squint to see? Perhaps road signs are more difficult to read? Squinting while wearing glasses or contacts is a sign that your prescription is no longer correct. For those without glasses or contacts, this could be a sign that you may want to go to your optometrist and get your eyes checked again.
Floaters: Floaters are dark specks that float around your eye, that you can see. Although everyone has a few, suddenly seeing many could mean that there is a problem with your vision. This is especially true if the floaters come with flashes of light or difficulty seeing in the periphery. This could mean that your retina has detached. Call your doctor immediately to avoid permanent vision loss.
Headaches: Chronic headaches are often a sign of vision problems. This could be eye strain from computers, smartphones, or TVs. It can also mean an incorrect prescription.
Eye Infection: Although not all eye infections need medication, it is impossible to tell which ones do. A trip to the eye doctor can help determine what's best for your eyes when suffering from a possible infection. Eye infections cause the eyes to be itchy, red, and painful. You may also have blurred vision or be sensitive to light. Sometimes, the eye may have a discharge. When infected, in all of these cases, it is best to seek medical attention.
Always contact an eye doctor if you think you have a problem with your eyes. Not going to see the eye doctor could cause vision problems in the future.
Tests Performed During an Eye Exam
Eye doctors perform a wide variety of eye tests. Some are quite simple, while others are far more complex, often requiring specialized equipment. Due to the number of tests, an eye exam often takes more than an hour to complete. With the help of these tests, your doctor can determine how healthy your eyes are and what they need to do to improve your vision.
Simple Eye Exam Tests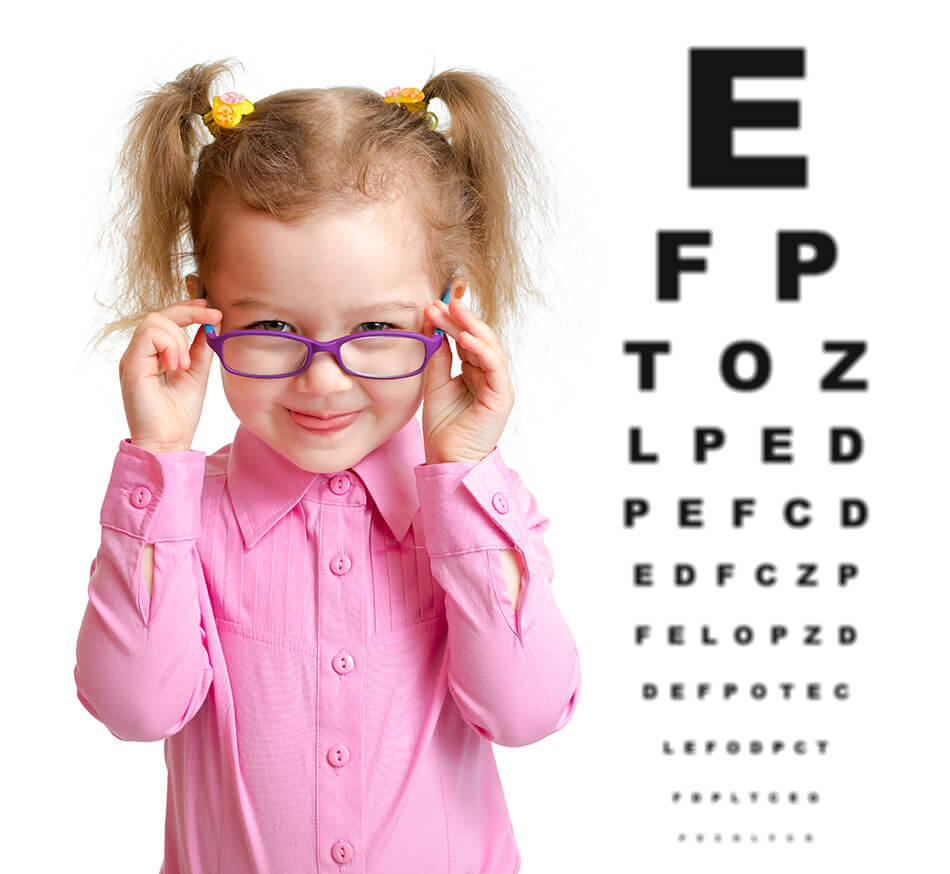 Visual Acuity: This test measures how sharp your vision is using an eye chart on the wall and a hand-held chart.
Color Blindness: This screening lets the eye doctor know if you have color blindness. Color blindness can be hereditary or can indicate problems with the eye.
Cover Test: This checks how your eyes function together. As you cover one eye, you will focus on an object far away and then close up. The doctor checks for how well your eyes move to stay focused on the object.
Eye Movements: This determines how well you can follow an object with your eyes. The eye doctor looks at how quickly your eyes move and how smooth the movement is. Eye movement issues often cause problems with reading and playing sports.
Depth Perception: In order to see depth, your eyes team together. This test requires you to wear 3D glasses while looking at patterns. You will be asked to point out the object that looks closer to you.
Glaucoma Test: This test measures the pressure of the fluid in your eyes.
More Complex Eye Exam Tests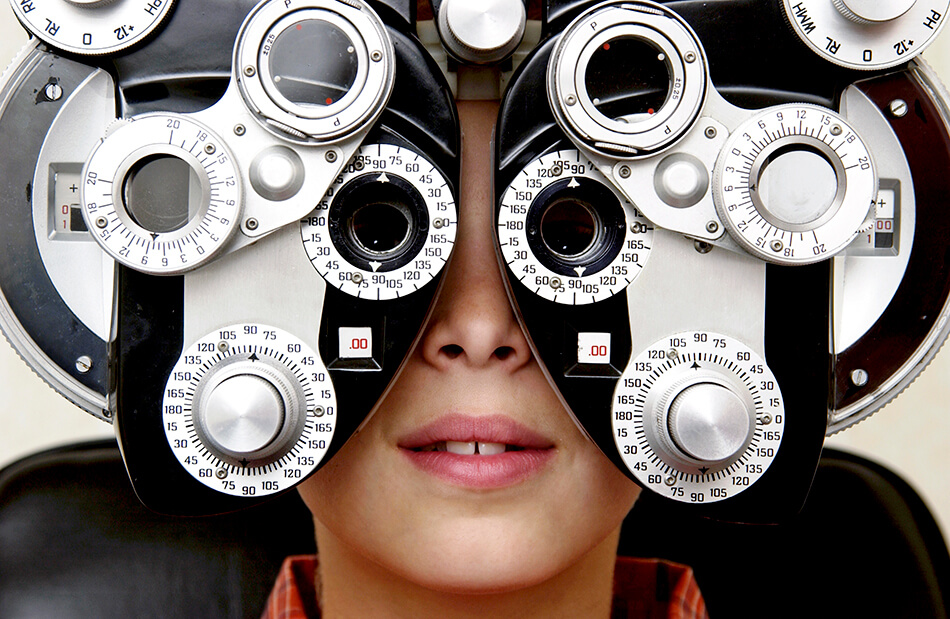 Retinoscopy: This test helps the eye doctor estimate your prescription based on the light reflection in your eyes. This test works well for small children or older adults who cannot verbalize how well they can see.
Refraction: This test helps the eye doctor get the exact prescriptions for your glasses and contacts. The doctor places a machine in front of your eyes and switches lenses. You will tell the doctor which lens is clearer.
Autorefractor: Like a retinoscopy, this test estimates your prescription strength. You look into a computerized machine and focus on the light or object indicated.
Slit Lamp: This microscope lets the eye doctor look at your eye's structures. The doctor can determine any issues you may have. These include macular degeneration, cataracts, or diabetic retinopathy, among other problems.
Dilating the Pupil: This allows the eye doctor to see inside your eyes. In this way, the doctor can check for signs pointing to the early stages of eye diseases.
Visual Field: This test checks for blind spots, especially in the peripheral vision. Blind spots often indicate glaucoma or brain damage from a tumor or stroke.
Eye Exams for Contact Lens Fittings
Most of the time, a contact lens fitting is not part of a typical eye exam unless you already wear contact lenses. If you do not yet wear contacts, you will have to ask for a contact lens fitting in order to get a contact lens prescription.
Contact lens fittings cannot be done when your eyes are dilated. This means that your lens fitting will be prior to your eye exam, or on another day.
Most people get a contact lens fitting through the same practice as their general eye doctor. This saves money because tests do not have to be repeated.
Having good vision is fundamental. That's why it is crucial to have an eye exam regularly. It is also crucial to see your eye doctor whenever you experience an eye issue, no matter how small you think it might be. Don't risk compromising your vision. See your eye doctor and keep your eyes healthy.