Glaucoma 101: What Contact Lens Wearers Need to Know
Glaucoma is an eye disease that damages the optic nerve. It's also the biggest cause of blindness in the US. That's why so many people want to know if wearing contact lenses can cause glaucoma. Those with a glaucoma diagnosis wonder if they should continue to wear their contacts.
Here are the basic facts about glaucoma and what you need to know to make the best decisions for your eye health.
What Is Glaucoma?
Although most people think that glaucoma is one disease, it is actually a group of issues that affect the optic nerve. Without the optic nerve, you cannot see. High eye pressure causes this damage which often leads to blindness. Unfortunately, the damage caused by glaucoma is irreversible.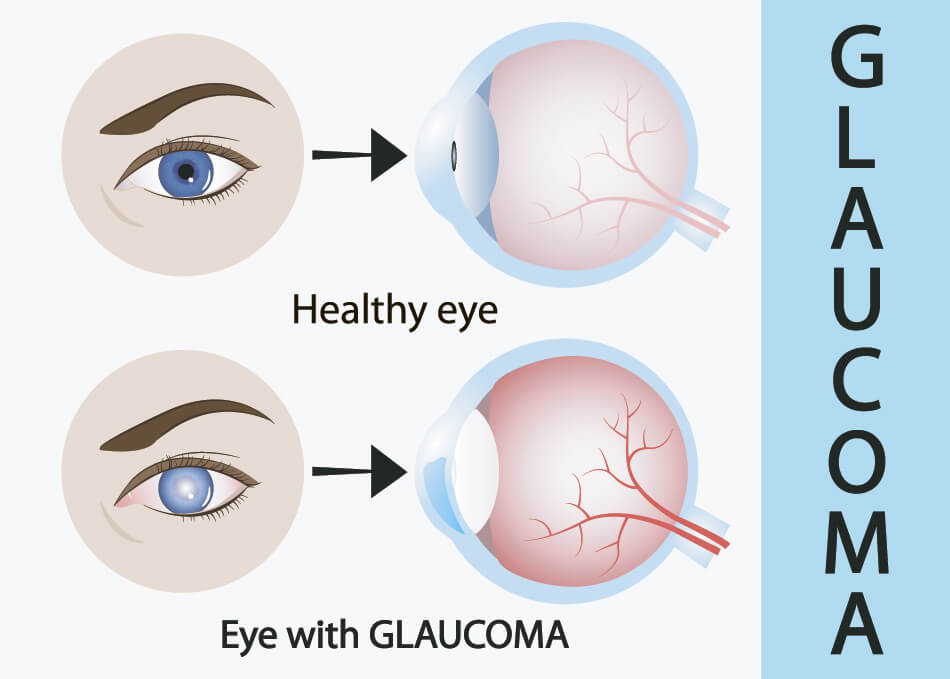 Although common in older people, glaucoma can strike at any age. Because the typical type of glaucoma has no warning signs, many people begin to lose vision before having a diagnosis. This is why it is so important to get regular eye exams.
During regular eye exams, your eye doctor should check your eye pressure. If your eye care professional finds high pressure in the eye, they can treat you to help slow or prevent vision loss. However, once you have glaucoma, you have it forever, so treatments last a lifetime.
Symptoms of Glaucoma
Although the most typical type of glaucoma produces no symptoms, there are signs to look for. These vary depending on the type of glaucoma and the stage of development.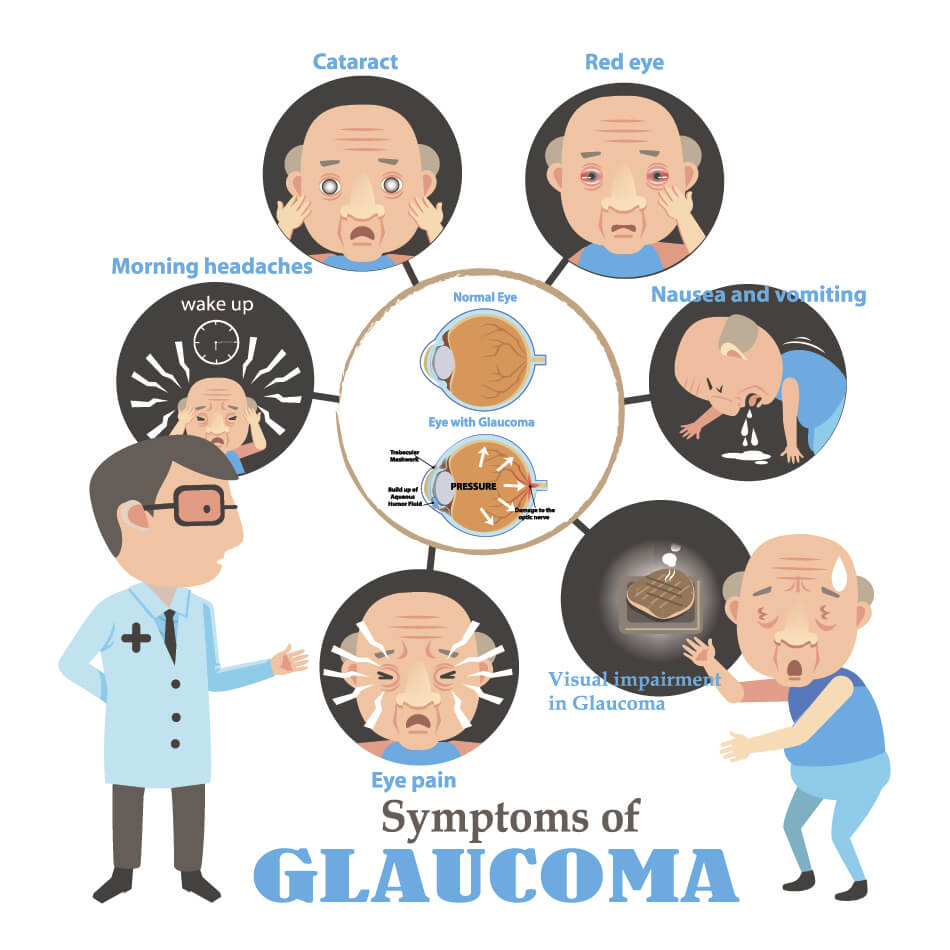 Symptoms include:
Blind spots in your eye or eyes
Tunnel vision
Blurry vision
Halos appearing around lights
Pain in the eye
Red eyes
Headaches
Stomach upset that may include vomiting
If you experience these symptoms, seek medical treatment immediately. Remember, vision loss from glaucoma is permanent. Faster help could mean a better outcome for your eyes.
Regular Eye Exams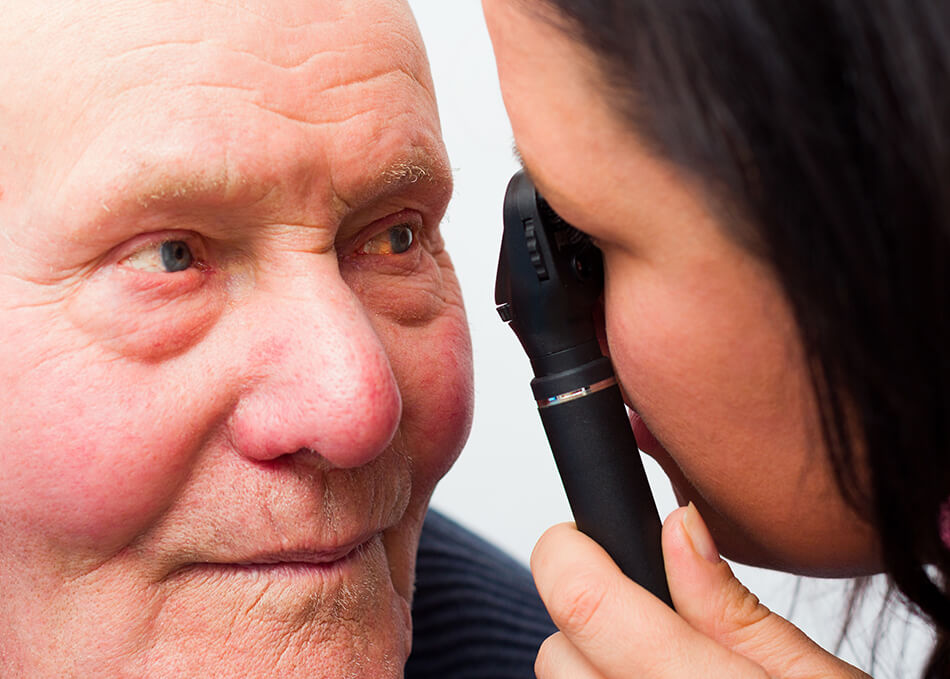 Because some glaucoma has few symptoms, seeing an eye doctor regularly is important. The American Academy of Ophthalmology suggests the following screening schedule for glaucoma:
Every 4 years starting at 40 for those without risk factors
Every 2 years after age 40 for those with risk factors
By age 65, every 2 years
What Causes Glaucoma?
Unfortunately, doctors are not sure of the exact causes of glaucoma. Although they know the optic nerve damage is from high eye pressure, they do not know what causes that high pressure.
It appears that the pressure increases when fluid builds up in your eye. Typically, this fluid drains to the front where the cornea and iris are. Those with glaucoma either produce too much fluid or don't drain the fluid effectively. This causes high pressure in the eyes.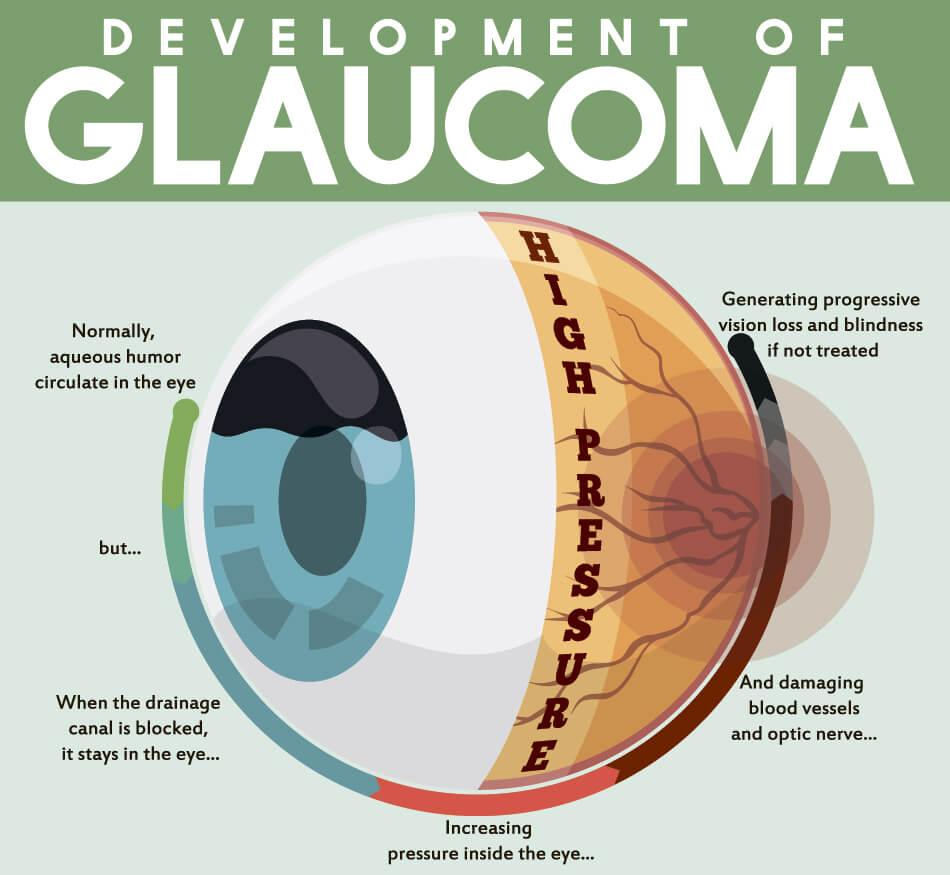 Glaucoma runs in families. Some researchers hope to find a gene related to glaucoma to help prevent the disease from ever occurring.
Although the exact causes are unknown, there are some risk factors that make a person more susceptible to glaucoma. They include:
High eye pressure
More than 60 years old
Hispanic or black
Family history of glaucoma
Diabetes
High blood pressure
Heart disease
Sickle cell anemia
Nearsightedness
Eye injuries
Estrogen deficiency, especially at an early age
Long-time use of corticosteroid eye drops
Researchers do not believe there is a connection between glaucoma and contact lenses. Since no studies have shown a link, those with high-risk factors for glaucoma do not necessarily have to stop wearing contacts.
Types of Glaucoma
There are five main types of glaucoma. They include:
Open-angle glaucoma: This is the standard type in which the drainage between the iris and cornea stays open, but the meshwork leading to the drain opening becomes clogged. However, this happens slowly over time. Because it is so gradual, few symptoms occur. Without proper eye exams, vision loss could be your first warning sign.
Angle-closure or closed-angle glaucoma: The drainage between the cornea and iris is blocked by a bulging iris. Unlike open-angle glaucoma, angle-closure can happen quickly, especially when your pupils dilate suddenly.
Normal-tension glaucoma: Although the pressure in the eye is normal, the optic nerve no longer functions correctly. Some believe the optic nerve is too sensitive. Others believe that there is less blood supply due to atherosclerosis, or hardening of the arteries.
Pigmentary glaucoma: The iris deposits pigment granules into the drainage area. This blocks liquid from leaving the eye. Many people notice this when jogging or doing other jolting types of exercise.
Childhood glaucoma: Infants and children can have glaucoma. Sometimes, children are born with it and other times, glaucoma develops in the first few years of childhood.
Preventing Glaucoma
There is no real way to prevent glaucoma. However, you can learn of its existence early to take steps to reduce vision loss and slow the progress of glaucoma.
Always get regular eye exams
Tell your doctor about any family history of glaucoma
Exercise regularly to reduce eye pressure
Take all medications as directed, even if you experience no glaucoma symptoms
Protect your eyes from eye injuries by wearing appropriate eye protection
Contact Lenses and Glaucoma
Many people with glaucoma can continue to wear contact lenses. Of course, it depends on your eye doctor's recommendations.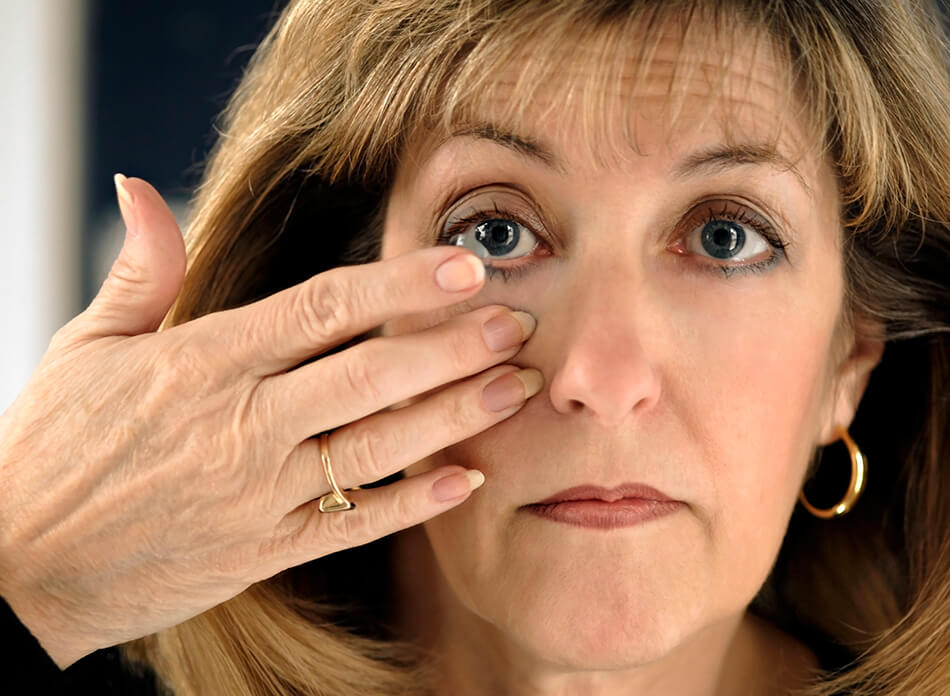 For eye drop treatments, most people continue to wear contacts. Most drops, however, go into the eyes when contacts are removed. For surgical treatments, you may have to stop wearing contact lenses. It will depend on the surgery. For all treatments, your prescription may change. Be sure to check your prescription regularly.
Since glaucoma is common and causes permanent damage, be sure that you understand the warning signs and symptoms. Contact an eye doctor if you feel you have a problem. However, know that wearing contact lenses does not cause glaucoma, so do not be afraid to continue their use.