We reserve the right to terminate our partnership if it is determined that your account or followers are not genuine or authorized.
The partnership is an exclusive exchange of goods and will not include any monetary incentives.
The amount of contacts provided to you will be determined by the amount of followers.
Contact lenses will be provided to you once. However more products can be sent depending on the performance of your unique promotion code give (minimum 5 times usage).
Following the dispatch of your free contacts, should you not be reachable within 14 days or inactive on Instagram for 21 days. We will require a fine/penalty for the cost of the contacts plus the shipping fees.
We are not responsible for any issues or violations of guidelines that may occur with any other companies that you may be working with.
We will not take any responsibilities for banned accounts due to inappropriate post or content
You agree that your account information and posts may be shared and used by Perfectlens.ca.
Perfectlens.ca reserves the right to suspend, cancel or modify the Influencer agreement if it determines that for any reason the Influencer is not fulfilling its role as originally planned or for any other occurrence compromising the fairness or integrity of the agreement.
× Close
×
Collaborate with Perfectlens
by Instagram
For people who still don't know how to purchase contact lenses online, we need your help. Spread your experience with our contacts through your Instagram. Never purchased from us? No problem, we will give you FREE Contacts.
Here is how it works.
Step1.
Let us know more about you using the form below
Step2.
We send FREE CONTACTS to your door
Step3.
Share your experience on Instagram
Simple Rules
01. You have at least 1,000 followers on instagram.
02. You are living in Canada.
03. Make sure your Instagram account has public settings enabled.
04. Share your experience through an Instagram post (Don't forget to follow @perfectlens.ca and tag us in your post).
Our collaborators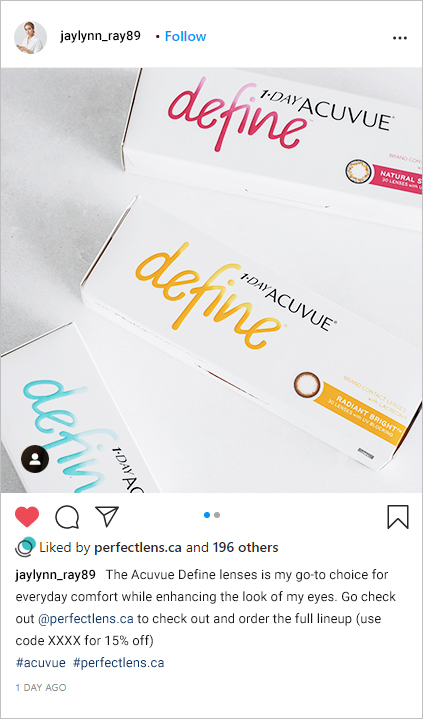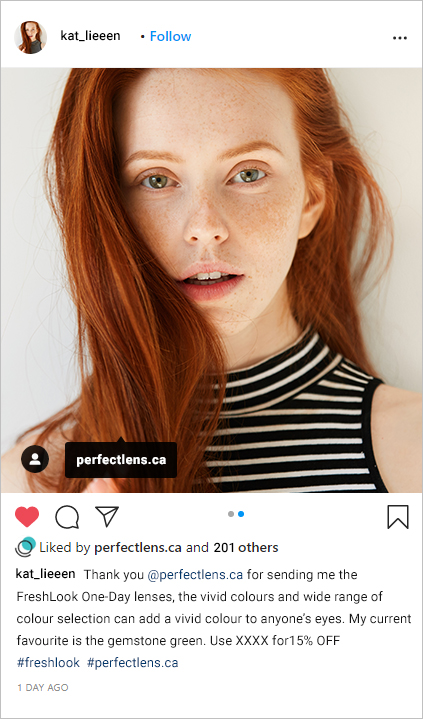 Ready for Collaboration?
Fill the form below. We wil reply in 2 business days.
Copyright© 2021 perfectlens All Rights Reserved.